Gamble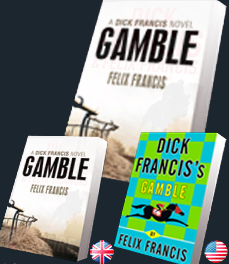 As one of the youngest ever winners of the Grand National, Nick 'Foxy' Foxton's career as a world-class jockey is on perfect track until a near-fatal accident cuts his dream brutally short. But when he returns to Aintree as a spectator years later, nothing can prepare him for what unfolds.

Minutes before the biggest event on the racing calendar, Nick's affable American colleague Herb Kovak is shot at point-blank range, the gunman disappearing amongst the stunned crowd. Along with the police, Nick is left baffled as to why anyone would want to kill such an apparently gentle soul.

With the press speculating links to gangland crime and a crumpled note containing a threatening message found in the dead man's coat, Nick begins to doubt how well he really knew Herb. And on discovering Herb had named him as the benefactor of his will, Nick questions why he has been entrusted with the legacy. Is this a generous gift from a friend or is it, in fact, a poisoned chalice?